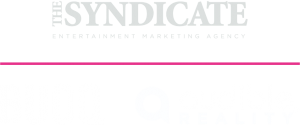 AUDIBLE REALITY ANNOUNCES FIRST EVER PARTNERSHIP WITH THE 3-IN-1 AUDIO DEVICE BUOQ
THE APP THAT ALLOWS YOU TO HEAR MUSIC DIFFERENTLY JOINS FORCES WITH BUOQ'S UNIQUE HIGH DEFINITION WIRELESS OVER-THE-EAR HEADPHONES THAT SWITCH INSTANTLY INTO WEARABLE LOUDSPEAKERS
THREE CUSTOM DESIGNED BUOQ 'VIBES' LAUNCH TODAY ON THE LATEST VERSION OF THE AUDIBLE REALITY APP DOWNLOAD VIA THE iOS APP STORE + GOOGLE PLAY
New York, NY (October 19, 2020) – Audible Reality, the groundbreaking audio app and 3D audio technology experts, have announced a first-of-its-kind partnership with BUOQ, the makers of high definition, over-the-ear headphones that instantly switch to wearable loudspeakers.
With the announcement, Audible Reality is offering the first premium Brand Vibes for BUOQ, taking the BUOQ Axis experience to a whole other level. BUOQ's focus on sound, effective design, simplicity and personalization resonates perfectly with the Audible Reality brand, and growing list of early adopter artists and users.
With the announcement of this partnership BUOQ customers can now instantly upgrade their Axis headphones with premium 3D audio capabilities, designed exclusively for BUOQ by Audible Reality. Current and new BUOQ Axis owners can access this upgrade through a 3-pack of BUOQ Vibes at a tiny fraction of the original headphone purchase price – 3 Vibes for just $2.99. The pack includes a uniquely designed 3D audio Vibe for each Axis listening mode (Headphone, Neckphone, and Surface). The Vibes bring added depth and realism to the BUOQ Axis listening experience. The Neckphone Vibe, for instance, makes a pair of speakers feel like a widely immersive 3D soundstage.
Additionally, Audible Reality provides BUOQ with the ability to continually improve their product by learning from direct, non-invasive user feedback generated through the listening experience. This ingenious design helps to ensure BUOQ headphones consistently deliver the best audio experience possible to each and every BUOQ customer over the entire life of the product. Headphones that grow with you? Yep. Welcome to the future of premium audio for hardware!
For a limited time, Audible Reality users can purchase the BUOQ Axis at a 45% discount for $99 USD via the Audible Reality website. Use the promo code: BQAURE45
Purchase BUOQ premium 3D audio Vibes via the Audible Reality app, available on iOS App Store & Google Play.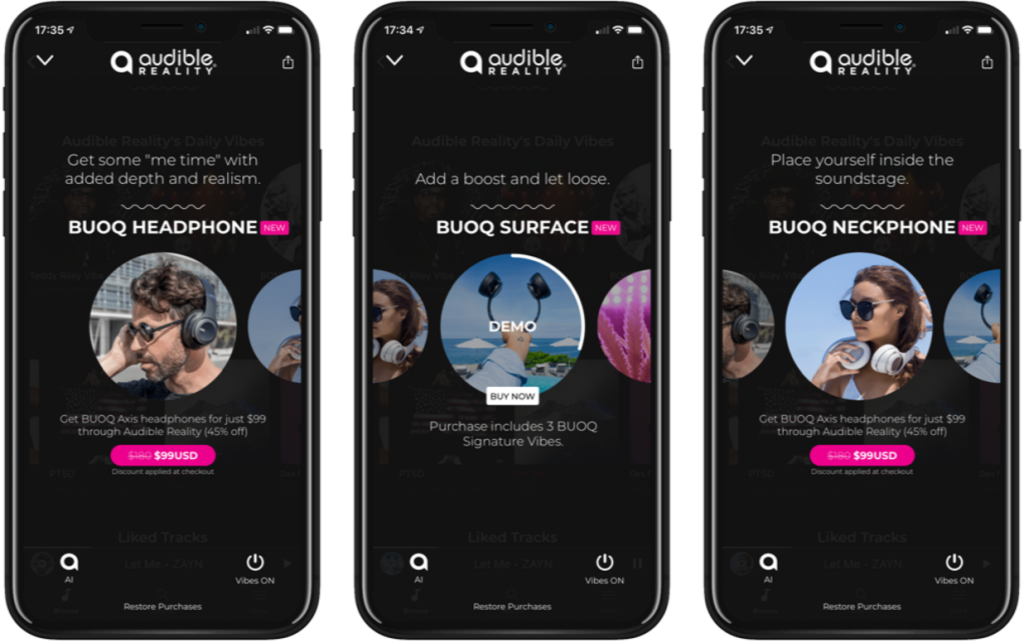 Personalization is what makes both of these products unique. With the Audible Reality app listeners can hear their favorite music like never before in 3D audio, through your preferred streaming service, creating unlimited variations through the Audible Reality Player's innovative Vibes feature. With BUOQ's Axis 'neckphones', the listener is able to maximize their personal listening experience, and share that experience with friends, with a simple click, reversing the speakers into high quality, wearable/portable speakers.
Discussing the new partnership, Audible Reality CEO & Co-Founder, Matthew Boerum states, "Audible Reality is beyond excited about our partnership with BUOQ. BUOQ came to us to provide a premium upgrade to the overall sound experience on their Axis wireless headphones. They were looking for a solution to reduce the cost and time to market, associated with typical hardware upgrades. Without spending a dime, BUOQ was presented with a fast and efficient audio software solution to get their upgraded product to market… immediately.
The upgrade offers premium audio quality, 3D audio enhancement, A.I. for predicting audio engagement, and consumer personalization. On top of that, BUOQ is receiving real-time product engagement data that shows how listeners use their headphones by focusing on the enhancements they make to their listening experience, for whatever they listen to.
Our software also provides a future option for direct communication with their customers for new product announcements, future upgrades and marketing. It's a great showcase of the value that Audible Reality is excited to bring to the headphone market. We're thrilled to have BUOQ as our first partner in this space."
BUOQ CEO, Enoc Armengol adds, "Our partnership with Audible Reality is the next stage of sound for anyone who is truly passionate about premium sound quality and music. It will allow our customers to personalize the sound of any song, the way they want to hear it. For our Axis headphones, our first-of-a-kind headphones which transform into loudspeakers, Audible Reality have taken them even one step further. This will provide us extremely useful data to focus our product growth and development on what our users really want and need. Not to mention saving us time and investment, that it would have otherwise taken us to develop such amazing features. As a business, our main focus is to add tremendous value to our users. And I'm absolutely blown away by the results of what Audible Reality has provided."

"Audible Reality is definitely the future of audio technology." – Teddy Riley
"Audible Reality opens up new creative and sonic aspects of my music like nothing else I've seen in years. With the innovative Vibes technology, AR brings fans and listeners right into my world as they hear my music through the Vibes settings I've created." – Dan Wilson, Semisonic
I'm leveraging Audible Reality as part of the future of hip hop sounds for artists. Bringing that heat using my unique Battlecat vibe\." – DJ Battlecat
Learn more about Audible Reality in Forbes, Variety, American Songwriter
About BUOQ:
BUOQ produces versatile headphones that turn into speakers. The Barcelona-based startup, founded in 2018, is helping to reduce electronic waste by its combination of headphones and speakers into one device. Also, it supports modern lifestyle following the trend of owning less and saving space. BUOQ won several awards like the Startup Launchpad award in Hong Kong and is continuously featured at the top industry exhibitions like CES in Las Vegas and IFA in Berlin. BUOQ is currently working on the introduction of further headphone models as well as the expansion of their selling channels. www.buoqon.com | www.neckphone.io
Audible Reality Links:
Instagram
Twitter
Facebook
LinkedIn
For Press Inquiries, Please Contact:
Brendan Bourke | The Syndicate | brendan@thesyn.com | 347-564-2927
Jeff Kilgour | The Syndicate | jeff@thesyn.com | 917.678.4420
Arielle Aslanyan | The Syndicate | arielle@thesyn.com | 818.398.9019